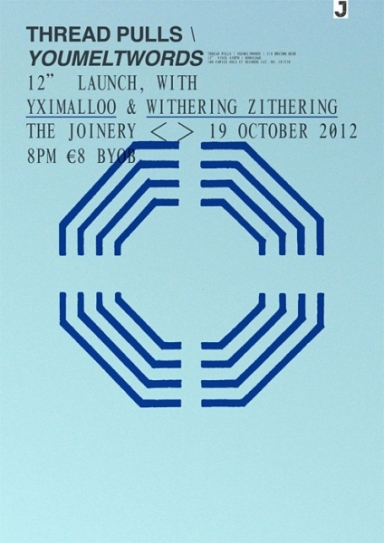 Thread Pulls / Yximalloo / Withering Zithering
19th Oct 2012
8PM €8 BYOB
THREAD PULLS
After several months under the radar, Thread Pulls return to The Joinery with their new 12" record, 'You melt words \ 5/8 rhythm here',which will be released on 19 October 2012 on CF Records (Girls Names, Sea Pinks, Lucky Dragons, Patrick Kelleher). Recorded with legendary underground electronic music producer David Donohoe and made over a two week period in their basement city centre studio, it comprises two long-play tracks arranged specially for 12" vinyl.
YXIMALLOO
Yximalloo is a one-man mysterious phenomenon. He has maintained obscurity, even though he has been making and recording music since the 1970's and his champions include artists as diverse as Jad Fair (Half Japanese), Momus, and members of Animal Collective.
WITHERING ZITHERING
Withering Zithering is the slow-burning soundscape project of musician and instrument builder Ed Devane. Live, improvised, electroacoustic music made with a selection of custom built instruments and the eponymous zither. The "Shattered Sense of Calm" EP released on Edinburgh-based label Acre Recordings in early 2012 encapsulates the richly textured Withering Zithering sound, which oscillates between harmonious, lullaby strings to bristling full spectrum electronic feedback tones.